Organizers
Edit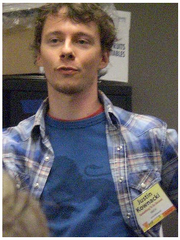 Thanks to Sponsors of Podcamp Pittsburgh 3
Edit
October 2008
We would not have had such a success without your interest, enthusiasm and interaction with your podcamping peers.
Remember, as you discuss and celebrate your attendance here, tag your posts with "pcpgh3" -- this will help those searching for related material to find your creative endeavors.
PCPGH3 is not the end, but the beginning of a new year's worth of social media events, both in Pittsburgh and the region. Please come back to our site, http://pcpgh.com, and join the forums, watch the news, and keep up on the events listings.
Our sponsors made the weekend cost-free for most of us - take a moment to peruse this brief listing:
Viddler ( http://viddler.com ) -- In addition to providing a high-quality, interactive video platform (and helping spread the word about PCPGH3), Viddler's Brandice Schnabel also led a session on understanding the ins & outs of web ettiquette
ShowClix ( http://showclix.com ) -- ShowClix's Lynsie Camuso was instrumental in creating our registration system, as she does for event-based clients around the country who need fast mobile check-in solutions
Pittsburgh Gateways ( http://www.pghgateways.org/ ) -- We couldn't have done PCPGH3 without Gateways, whose financial assistance helped us keep our books straight and our minds on the details that matter (rather than, you know, taxes...)
Wear Pittsburgh ( http://www.wearpittsburgh.com/ ) -- If you didn't get a PCPGH3 t-shirt, celebrate your love for the 'burgh by nabbing one of WearPittsburgh's distinctive "neighborhood" styles (including the much-loved "pierogi" and "parking chair" shirts).
Jason Cable ( http://www.jasoncable.com/ ) -- Jason's GLBT podcast and his passion for activism were front and center at this year's event -- and so were his nifty complementary notepads and PCPGH pens!
PCPGH meet-up
Edit
Nov 19, 2008 at the Firehouse Lounge in the Strip (2216 Penn Ave, Pittsburgh, PA 15222).